Home
»
Controls & Instruments
Controls & Instruments

Click to enlarge
Comstat is an authorized factory distributer of Novus Automation's full line of instruments for control, data acquisition and supervisory systems. Integrating with thermal fuses, mechanical and electric thermostat (bimetallic & snap) products, and many other thermal control components, we can ensure an ideal solution. Novus, located in Porta Alegre, Brazil, is a world leading manufacturer of quality, cost effective control products.
Comstat stocks the following products for next day shipment:
The N120 1AL Open Frame Controller as Low as $106.00
The N120 is an extraordinarily versatile, self adaptive board level process controller for applications that require more features than a simple thermostat (bimetallic or electronic) can provide. It has all the main features needed for the vast majority of industrial processes in a board level package, ready to be integrated into OEM control systems.

Product Details:
Inputs:

Thermocouples J, K, T, E, N, R, S, and B
RTD's Pt100
Process signals 0-50 mV, 0-5 Vdc, 0-10 Vdc, 0-20 mA and 4-20 mA

Outputs:

2 SPST relays
Logic pulse for SSR

Dual Display Board
Auto-adaptive PID control
Up to 4 alarms with timers from 0 to 9999 s
16-bit A/D converter, 55 samples per second
Bumpless Auto/Manual function
Ramp and Soak: twenty 9-segment profiles or 1 profile with up to 180 segments
Programmable soft start (0 to 9999 s)
Access password for configuration protection
Digital input for multiple functions
Timer function
Size: 100 x 67 mm
Power supply: 100~240 Vac/dc ±10%
OPTIONS:
RS485 Modbus RTU serial communication
SPDT relay for up to 10A loads
Power supply: 24 Vac/dc
Customized versions available
Data Logger function and USB port
Click here to download the Operations Manual
N1040-PRR Low Cost Controller as Low as $99.00
The microprocessor based N1040 was designed for low cost applications which require a high degree of accuracy. It features a short depth of only 70 mm and a removable wiring connection block to make installation easy. The N1040 controller accepts Pt100 RTDs and thermocouples (types J, K and T), provides two outputs for control and alarm, 2 Relays + pulse and automatic tuning of the PID parameters.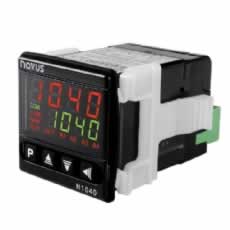 Product Details:
Inputs:

Thermocouples J, K, and T
Pt100 RTD

Outputs:

Programmable for main control or alarm
2 SPST relay
Logic pulse for SSR

Alarm functions: low, high, differential, low differential, high differential, sensor break
Loop Break Detection function detects failures in the control loop
Safe output function allows the user to set control output conditions in case of sensor break or failure
Auto tuning PID
Simplified programming menu makes operator programming very easy
Configurable keypad password to prevent unauthorized programming changes
Permanent 8 digit electronic serial number which can be accessed from the display
Front panel protection: IP65
Click here to download the Operator's Manual
CTSSR-4810: 10A Solid State Relay – Only $17.00
Click here for a complete listing of all available Controllers and other Novus Automation products.